A 24-year-old Tekashi69 (Daniel Hernandez), is an American rapper and songwriter who was prisoned for racketeering, carrying a firearm, assault with a dangerous weapon, and conspiracy to murder. Tekashi testified on his former gang members last year in September and hence branded as a snitch.
The Snitch is Back!
Last month, Tekashi was released from prisoned and sentenced to home confinement because of Covid19 concerns. Rapper made a comeback on social media (Instagram) and music Industry with a banger 'GOOBA' which destroyed the record of most viewed hip-hop music video on YouTube grossing 43M views in a day. GOOBA dominate Eminem's "Kill shot" 34M views.
Back then Rapper also went live rant about everything on social media, defends snitching on IG Live said "I want to apologize to my fans because you know what? It wasn't worth it. If there is a street code and there's something called 'no loyalty' and snitching and all that I get it. But, where was the loyalty when you were sleeping with my baby mother," he said "Where was the loyalty when you were caught on the wiretap trying to kill me? Where was the loyalty when you tried to kidnap my mother? Where was the loyalty when you stole millions of dollars?"
Tekashi added, "I get it — don't fight fire with fire, I'm sorry but what did I do wrong? Be loyal to n—-s that was f–king my baby moms? Be loyal to n—-s that kidnapped me? Beat the s–t out of me on video and everything? I'm supposed to be loyal to that? You know what it is, ya don't want to accept the fact that those is all true facts."
"Ya understand why I snitched, ya don't wanna understand." Tekashi's Instagram Live broke the IG record that day with 2M viewers watching.
Recent Disputes……ooohhh.
Ever since he returned, people and many rappers keep addressing him as a snitch. Rapper was lately also involved in dispute against Meek Mill lately who tweeted "that new song trashhhhhhhhhhhhhhhhhhhh! We heard that bullshit lol."
Tekashi recently shared a poll on his Instagram asking people to vote whether he should expose all rappers who have snitched before. Maybe this could be a warning to ones who are taking shots on 69. Sixnine claimed "Because they told me everything When I started"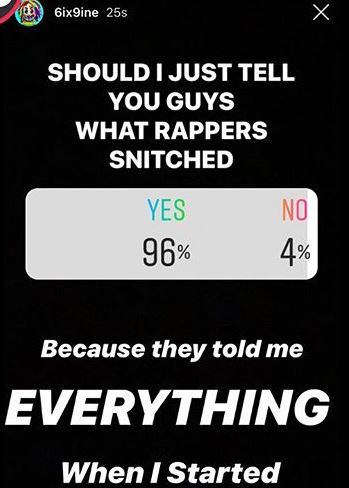 Is this really true? There're other rappers too? if yes, then who? I don't really think Tekashi's gonna do that, it's just a tease and warning.
Follow us on Instagram for fastest news and updates.