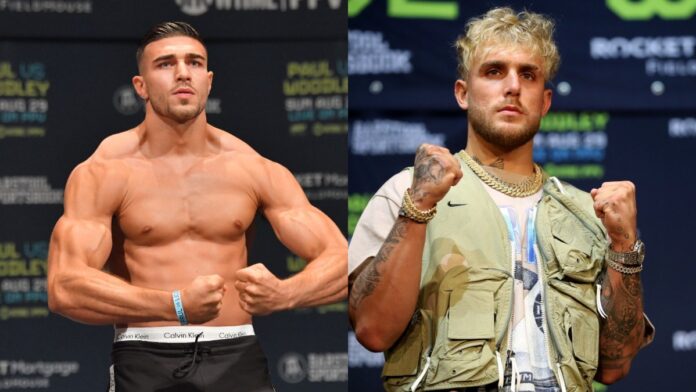 American internet star Jake Paul has once again bagged himself a fight deal. Similar to last fight, this one as well will carry a bet of which consequences will last a lifetime.
The YouTuber took to social media to reveal that Tommy Fury has accepted his recent offer which gave him an additional $500,000 prize if Fury emerged victorious in their future matchup.
On the flip side, if the YouTuber bags the fight, Fury will be obliged to legally change his surname and go with the name of "Tommy Fumbles." He also offered Fury a first class fight tickets and a 7 night stay at a 4 star restaurant which will also include continental breakfast.
The Problem Child shared a video on his Twitter saying, "Tommy has accepted the bet." In the video, Jake was seen saying, "Ladies and gentlemen, the bank robbery has commenced."
Even Fury went on to share a video message on his social media accepting the fight and asking Paul to send over the paperwork to his lawyers. He also claimed that Jake will be leaving the ring on a stretcher.
This idea of this ridiculous bet came from none other than his older half-brother Tyson Fury. While in an interview with Boxing Social, he suggested that Tommy should drop the name Fury if he is unable to beat Paul.
"If Tommy can't splatter Jake Paul, I'll retire him from boxing myself. If he can't beat Jake Paul, forget about boxing. Because he's got ambitions of being a world champion, never mind beating some YouTube guy. But it's a great fight for the social media world and for all the kids out there who support them both."
As of now no official paperwork is done and nothing has been finalized. However with Fury and Jake's affirmation, a bout between them will be in works soon.
Follow us on Instagram for daily news and updates.