Logan Paul vs KSI, last year attracted legion of audiences.The fight was one of biggest in Internet history with two YouTube stars clashing in a ring.Ever since then,Eddie Hearn has set his eyes towards Logan Paul's next fight against American athlete and footballer 'Antonio Brown.'
"We've made two offers now to Antonio Brown, and we're negotiating a fight at the moment," Hearn told ESPN. "I don't know if it's going to happen, but we're working on it. Obviously, it's a fight that DAZN is very serious about, very excited about."
Hearn says Paul has agreed to a deal and they're waiting for AB's, other end of deal.The fight is probably to take place in April 25.
AB lately tweeted on his handle writes:"Should I fight Logan Paul for 4.1m?"to which Logan pats a reply with "If you do,I'll match your donation."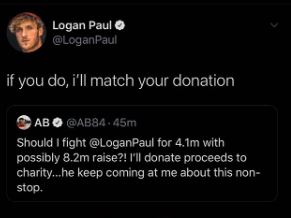 A big news came from Logan's podcast partner Mike Majlak ,shared a video on Twitter handle shows,Logan and AB facing off each other in a video.But,there's no official word about their fight yet. They will be most probably facing each other in boxing ring on April.
The tweet reads : "THE SAGA CONTINUES! "