The Streamy Awards Honor the best Content creator online bringing together the biggest name on YouTube as well as online. Streamy Award celebrated this 2019 year with some of best online talents.
Streamy Awards announced 24 winners this year at Premiere Awards.Some of the Big name like Logan Paul,Lil Nas X highlighted the ceremony.
Logan Paul's Podcast on YouTube "IMPAULSIVE" won the Streamy Award 2019 and Logan's name was called onstage to giveaway the award.
Logan Thanked all his friends and fans for supporton his social media celebrating the win of Best podcast award.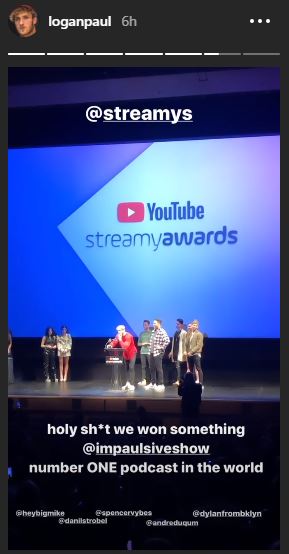 Logan Paul's Impaulsive is a show hosted by Spencer Taylor,Mike Majlak and Logan himself. Impaulsive has Completed its first season and Season 2 is ongoing.
Apart from this Lil Nas X also collected the breakthrough artist of year 2019 Award.