The coronavirus pandemic has put the countries in a lockdown state – stars and YouTubers are trying their best to help the people during a crisis.
A 24-year-old Logan Paul is an American controversial Youtuber with a huge fan following all over the globe and more than 20M subscribers on YouTube. Logan paul officially announced about his merchandise Free give away of corona virus mask and money.
Logan steps forward to help the people by giving away free mask to everyone and also as an attempt to rebrand his merchandise Maverick by Logan Paul, announced Logan.
Paul officially announced about the Corona Mask give away on his Social Media- Instagram as well YouTube. Logan posted a picture on Instagram wearing his mask of his brand, said "We've been excitedly working on the Maverick rebrand for over a year… HOWEVER, in light of the current situation and upon CDC recommendations that everyone begin wearing cloth masks, we've pivoted production and made FREE Personal Protection Masks. We're also randomly selecting ten (10) people who order to donate $1,000 as we know everyone is struggling to make ends meet."
The coronavirus mask is available on his new Website for free. There are two different versions of the mask available with different designs on them.
If you're lucky enough, you can even win $1,000.
Logan also made an announcement on his YouTube too, sharing a video on his YouTube channel says – "You guys may have noticed I stopped pushing the merch Maverick," he continued. "We have been doing a major rebranding trying to evolve the brand. It's much cooler, it's sleeker, it's lowkey." So Logan and his team came up with "brilliant idea to pivot production and make masks."
However, it's only been a few hours since the announcement of free corona mask by Logan Paul..they're out of their initial 30,000 maverick mask, Logan announced in recent Instagram story. "We're working hard to produce more and keep everyone a little bit safer," he continued.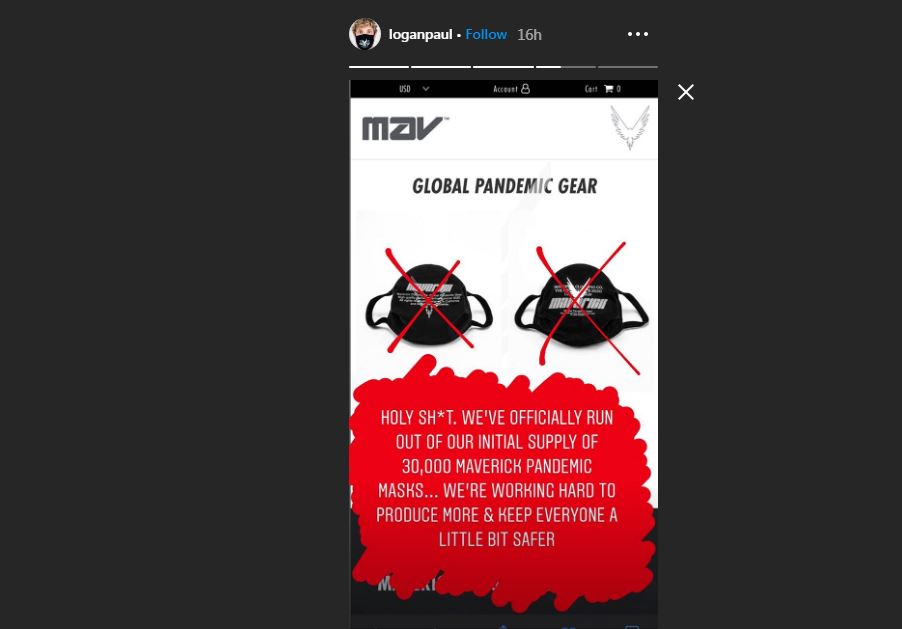 Logan urged everyone to Stay home and Stay healthy.
Follow us on Instagram for daily news and updates