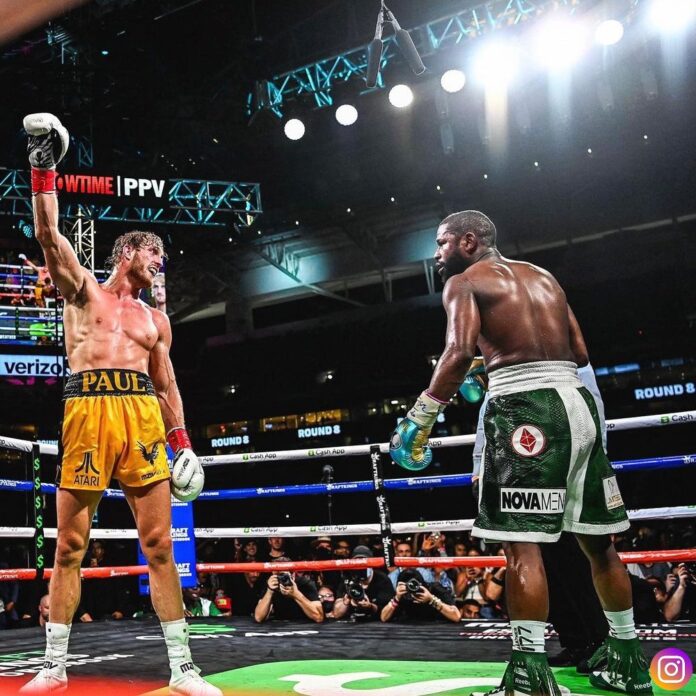 YouTube star Logan Paul slams Floyd Mayweather claiming he still has not been paid. Logan too called Floyd weasel for allegedly not paying him.
Logan and Floyd faced each other in an eight-round exhibition in Florida. Paul impressed everyone after lasting the duration of the 24-minute battle.
The bout between the superstars was a box office hit. As per the reports, the event garnered more than one million pay-per-view buys. The total amount generated from the PPV is estimated to be over $50 million.
Logan was offered a guarantee of $250,000 plus 10% of all PPV sales. Which all equate to approximately a further $5,000,000. Meanwhile, Mayweather was guaranteed to get $10 million-plus 50% of the PPV meaning an extra $25,000,000.
Paul took to Instagram to claim that Mayweather is yet to pay him his share from the fight at the Hard Rock Stadium in Miami. He posted on his Instagram story saying 'Pay me my Money u f****g corny weasel of a human'. He tagged Mayweather in a photoshopped picture of the American recent vacation in Russia.
Paul reacted to the post of Floyd Mayweather of earning so much from Logan Paul's fight he could buy Jeff Bezos jet, by saying 'Yeah because the dirty rat hasn't paid me yet lol. It's been 6 months '.
He continued further, 'but no worries @flyodmayweather, @KSI and I are going to make back the money you stole from me & more. January 4′.
This is not the first time Logan is not been paid for the fight. Mayweather has yet to respond to Paul's allegations and it is still unknown whether he will pay Logan or not. But if he pays it will set the stage for a second round between Logan and Floyd.
Follow us on Instagram for daily news and updates.