Lakshay Chaudhary is one of the most controversial Indian YouTuber now. He's been roasted by few emerging creators like Papaocus, Sunraybee, Dank Rishu and Shivam Trivedi on YouTube. Check our website to read more about them.
Lakshay indirectly warned some creators who trolled and exposed him on YouTube, in his recent Insta Story. The story reads "Aaj sham kuch Donation pr palne walo ko Tiraskar milne wala hai"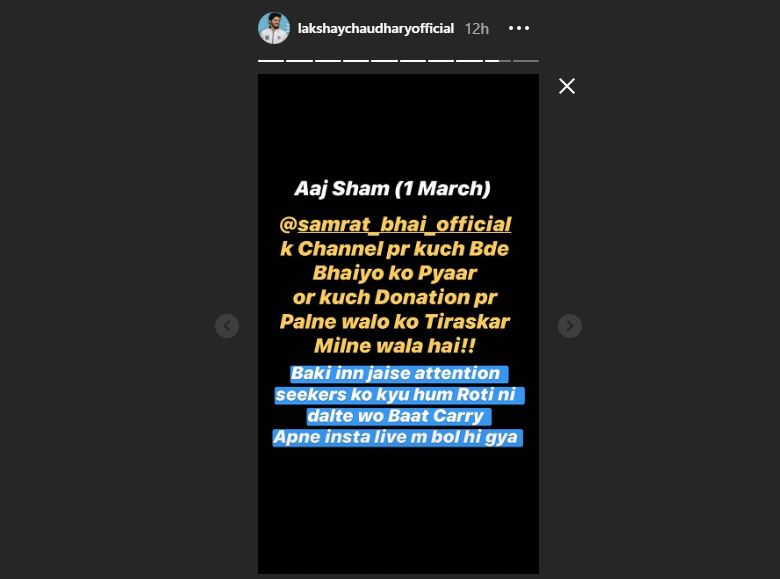 Though its Samrat bhai official's video that will release today at eve, sounds like Lakshay do have some connections in it. Samrat Bhai is a YouTuber who recently started his own YT series 'Real Face' where he roasted Vedant rusty in Ep-1 and second episode will be dropping today.
Probably the next target could be Papaocus and Sunraybee as hinted by Lakshay in his Insta story. The sentence that reads "Donation pr palne walo ko Tiraskar milne wala hai" very much relate to Papaocus who asked for donation to buy a new mic for his YouTube channel. Nothing is clear yet but we may get to see a roast on Sunraybee and Ocus by Samrat Bhai in a second episode of 'Real Face.'
Follow us on Instagram for daily news and updates.