Entity Ghatak (Abhijeet Andhare) and Soul Mortal (Naman Mathur) both are the professional pubg mobile player popularly known for their skills. Lately Ghatak insulted Mortal's mom, which created an uproar among Mortals fans, and they're furious about it.
What made Entity Ghatak abuse Mortal?, one of beloved Pubg mobile player in india respected for his down to earth and calm personality.
This incident took place few months ago, where Entity Ghatak ,clutch god, Sangwan and zgod played a game together and something cracked up between them, that is when Sangwan went off abusing Zgoda in pubg mobile. Hence, to took a stand against Sangwan Entity ghatak insulted Team Soul and Mortal as well, said "Mortal ki mk#."
The clip went viral now and fans are furious about it, even though Ghatak didn't aim it towards Mortal back then. But Mortal made it clear socially that they have already talked and sorted about it, and there's no need to spread any hate.
Mortal shared a story on his Instagram wrote "Everything was sorted between me and Ghatak 1/2 months ago… this was just a spice which came out of nowhere."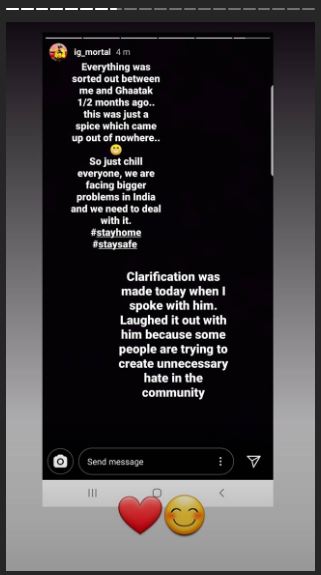 No matter how skilled or good of a player you're you should always be more careful about your words towards a decent person.
Follow us on Instagram for daily news and updates.