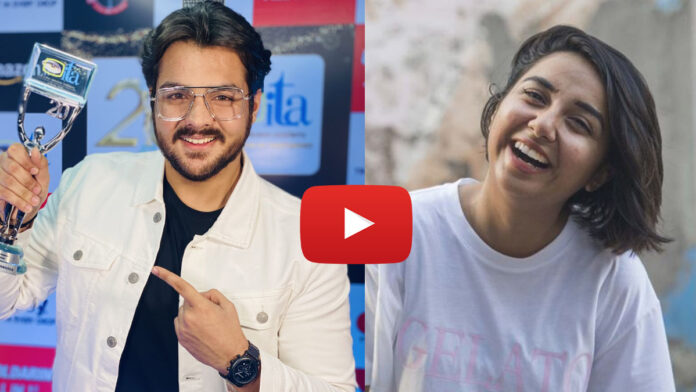 No Wonder YouTube has become the mainstream entertainment platform now. With the covid-19 spike in waves, feeling low and demotivated is natural. In all the ruckus around, the only thing that has kept me sane and happy is our spectacular Indian Creators. They are simply a blessing who knows how to make you forget your lows and downs and enjoy the moment full of laughter and joy. Watching their creative ways to get us rolling down on floor is Jabardast. Ngl It is quite therapeutic for likes of me, and maybe it is for you as well. So, scroll-down to find out such 5 Promising Indian Creators who can make you burst out in laughter.
1) Ashish Chanchlani
Rising from the Mumbai suburbs Ulhasnagar ka star, Ashish Chanchlani, is less of civil engineer and more of a great Indian YouTube creator/comedian. From his Doaremon Doaremon comedy skits (which went viral on the Internet) to directing some of finest Short films on YouTube, Chanchlani has become a respectable personality in the community. We #ACVians absolutely love the effort he put behind every videos.
Here's the truth, every time you go through Chanchlani's playlist you just can't stop laughing. Don't you agree? He made me burst out into laughter numerous time, God knows. Ashish is not just some YouTuber but also a Superstar who make us chuckle with his phenomenal content.
2) Bhuvan Bam
The face behind fans favourite Bancho (from BB ki Vines), Bhuvan Bam is not only an outstanding creator, actor and comedian but also an excellent artist. He is unique in the whole YouTube community. What I personally know is from time to time, Bhuvan has proven his excellence whether it's Papa Makichu, Angry Master ji or Titu Mama. He is one of the greatest Indian Creators very well-aware of how to put the puzzle pieces together to create a masterpiece. Scrolling through Bhuvan's playlist will defintiely make you Oh Man!! You are best. Warning!! You might hurt your stomach laughing.
Bhuvan Bam is the hardworking talented YouTube sensation who keep his audience entertained consistently through his unique quality content. Moreover, he is an Indian youth icon and an inspiration for every soul out there. Sending him lots of love and positivity. We love you Bhuvan let the content coming.
3) Amit Bhadana
How can we forget our Desi Launda, Khana Khazana naam hai Amit Bhadana. I think I just miserably failed trying to rhyme like this superstar. Neverthless, Amit Bhadana has this unique charm and intelligence in his videos. You are going to scream Oh-so-relateable, and Bhadana's extremely unique dialogues is like a cherry on top. He has become a most beloved personality in the eyes of people. The man is genius not just with rhymes but the way he blends the desi elements into his video. Presenting it in the exact manner so that audiences can relate the bar he set. Perfectly Exceptional.
Amit Bhadana is the king of entertainment who wins our heart every time with his real-self, humorous content and constant jokes. If you are going to check out his YouTube channel for the first time. Do not forget to fasten your seat belt for a laughter ride.
4) MostlySane (Prajakta Koli)
Talented YouTube Sensation, and dynamite in itself, our Marathi mulgi Prajakta Koli aka MostlySane is a role model for many. Not only she won the hearts of her fans with her talent, content and humor, but also has been influencing young minds and encouraging every girls out here. She's the best promising Indian YouTube creator who can make you laugh out loud and smile throughout her performance and hilarious to relatable content.
Believe me when I say She might make your day better. Her relatable videos will definitely make you scream oh god that's me!!. MostlySane excels in what she does being an incredible person everyone lookout for.
5) BYN: Be YouNick
Rising from the city of Domibvli (Mumbai), bartender, Engineer and fans favorite chai-lover Be YouNick (Nikunj Lotia), no doubt is the brilliant creator in the country. The mastermind behind the excellent tricky as well as relatable videos on his channel, BYN always comes up with new way to shock his audience in awe.
Best part is, Nick has been continuously making tricky content with twist since years, and all of it are insanely funny. He never disappoints, I am a prime example of that, binge-watched his content whole night laughing-out-loud. The way he put his humor with surprise is the highlight of BYN.
Do let us know who is your favorite Indian YouTube creator?
Follow us on Instagram for more news and Updates.