A 21-year-old MTV star and YouTuber 'Tana Mongeau' is an American star and social media personality known for modelling and music. She's Streamy awards, Best content creator of 2019.
A young star has won the hearts of many recently by starting a charity organisation – "11:11 Project" for the benefits of family suffering from devastating effects of corona virus.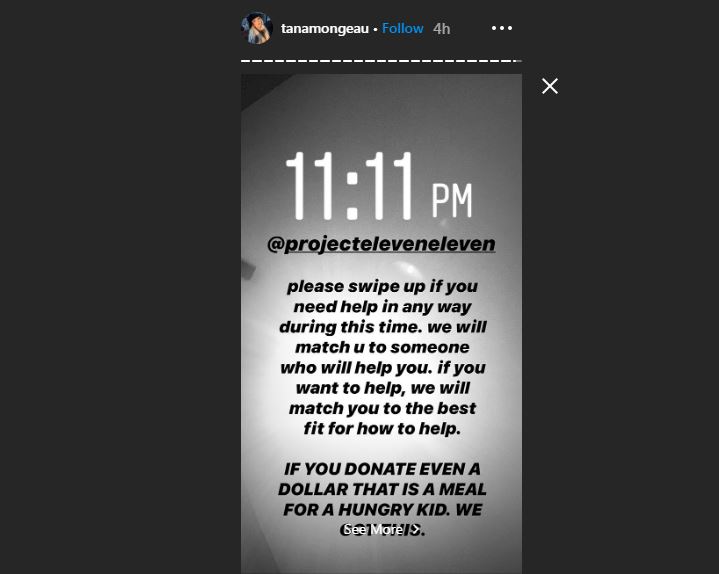 Tana officially announced about her new charity project on Social media – Twitter, Instagram and YouTube said she plans to provide "Immediate relief" to those who're struggling. Tana also went live on Instagram with her manager 'Jordan Worona' said:
"Jordan and I have been very concerned about what's going on in the world and … we realized that there's a lot that we can do with not only this platform, but Jordan's, too – us as a team. We wanted to do something we felt could really change the world."
"11:11 is a movement started to make an immediate impact against the coronavirus," reads the post from website.
"With millions of Americans out of work, we want to come together to help support the people who need it the most. The people who have lost their jobs; the people who can't pay medical bills; the parents who can't provide lunch for their kids," the announcement concluded. "11:11 is an opportunity for us to come together like never before and find those people who need help the most."
Tana's initiative has won our hearts and saved many lives. During such crisis every little help is counted and such a major step from 21-year-old impress as well insipire us at the same time.
Follow us on Instagram for daily news and updates.