Amid the already deadly pandemic, California is now struggling to contain huge wildfires burning forests and homes. More than 12,000 fire-fighters battle the blazes that have killed 6 people.
California is truly going through the worst times. Eleven thousand lightning strikes, 370 wildfires, a pandemic, a heat wave, and rolling blackouts – all in a single week. Hundreds of thousands of acres of land have burned and thousands of people compelled to evacuate.
Governor Gavin Newson put in a plea for assistance from Australia and Canada. "These fires are stretching our resources, our personnel," he said.
There are 560 fires spread along the whole state. Two of the cluster of fires are now the 7th and 10th largest in the state's history, Gov Newsom said as he urged President Trump to sign a major disaster declaration.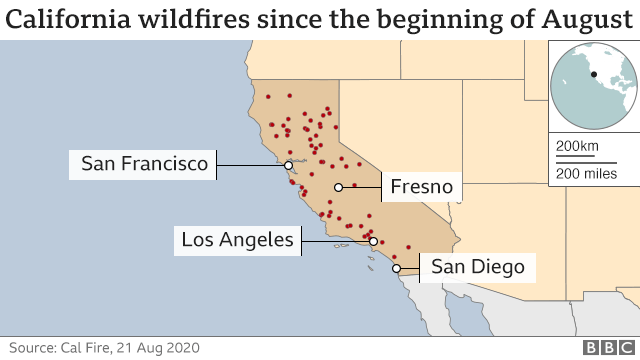 With already more than 650,000 coronavirus cases, California is struggling with it too. People who had to evacuate were afraid to enter the shelters because of fear of getting infected by the virus.
Officials are advising people to stay indoors due to poor air quality outside. They have also appealed to use less power to prevent further blackouts California has been experiencing due to electric strain.
California fires can even be seen from the space. Astronaut spots the wildfires from space. In total, over 1,205 square miles (1,950km) have burned across the state.
Follow us on Instagram for daily news and updates.