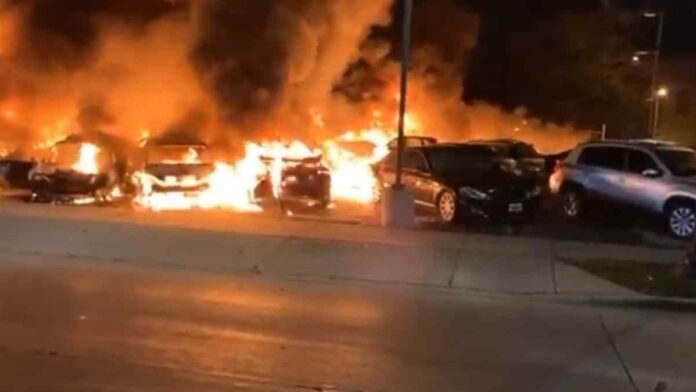 A video across the social media is going viral, depicting protesters in Wisconsin following the police shooting of an unarmed Black man, showing one officer apparently being hit by a brick.
In the video, protesters can be seen surrounding a police car in Kenosha city, also the sound of breaking the glass can be heard. Shortly, two police officers can be seen walking towards their car, when one of them drops down unconscious.
Other officer could be seen trying to help the injured cop as people in the background were heard yelling, "He just got bricked," and, "F— the police," in the video.
The shooting happened when a curfew was declared in Kenosha city. Three officers were seen shooting at a black man who was walking towards his car.
According to a press release from the police department, the officers arrived at the scene at around 5:11 p.m. local time "for a domestic incident and were involved in an officer involved shooting."
"Officers provided immediate aid to the person," the release said, adding that the victim was transported to a nearby hospital and "is in serious condition."
Protesters were seen damaging police cars, breaking its windows while other vidoes showed a garbage truck set on flames.
Follow us on Instagram for daily news and updates.