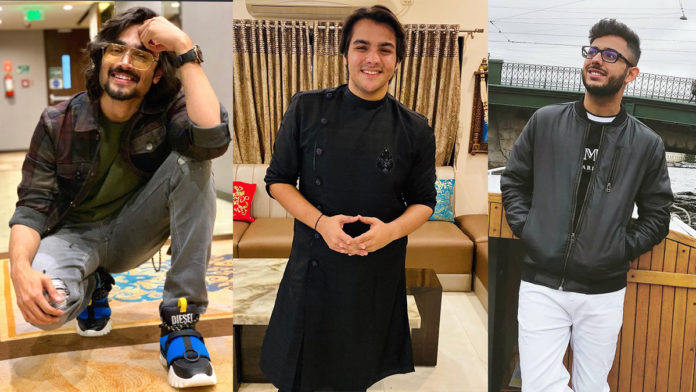 As of now, YouTube is nothing less than compared to any binge worthy platform. It is chosen by today's generation for everything from education to entertainment. Majority of people believe that YouTube is where you can get everything in one place.
People who feel they can entertain crowd or posses some incredible talent can showcase their work on this platform. Do you know who are most subscribed YouTubers of India? Let's find out –
1. Amit Bhadana
Beginning with no planning and aim to become a full time YouTuber, Amit Bhadana has ended up being a huge personality among the most eminent Indian Viner and YouTuber as of now. He is the most subscribed YouTuber of India.
Amit Bhadana is known for his quite "Desi" style of entertainment videos. He showcases himself as a person from rural India. This seems a lot relatable to a huge audience. He has 19.7 million subscribers making him the most subscribed YouTuber of India.
2. CarryMinati
Ajey Nagar, widely known as CarryMinati, is praised for his roasting skills. Carryminati gained attention because of gameplay video with commentary, mimicking Sunny Deol.
Carry started new channel in 2017 "Carryislive" for streaming his gameplay. Carry is well known for his diss tracks and music parodies.
Recently Ajey has been a part of YouTube vs Tiktok controversy and his video broke many huge records. Unfortunately, the video was taken down on the grounds of violating community guidelines. Carryminati added 7 million subscribers to his channel because of controversy. Carry currently has 18.8 million subscribers.
3. Ashish Chanchlani Vines
Ashish Chanchlani, an Indian comedian and YouTube personality is popular for 'Ashish Chanchlani Vines.'
Chanchlani's new channel started in 2009, but received a huge appreciation after viral video in 2014.
Chanchlani is mainly recognized for his comedy skits with hilarious expressions. Ashish acted for a short film hosted on ALT Balaji. Ashish works with his whole team to create these videos. Currently he has 18.34 million subscribers.
4. BB ki Vines
Bhuvan Bam known for his comedy channel, "BB ki Vines." He is an Indian comedian, singer, songwriter, and YouTube personality. In 2018, Bam became the first Indian individual YouTube content creator to cross 10 million subscribers.
Bhuvan known for his videos, which show situations with his family and friends. The best part is that all he himself plays all the characters. His content includes short films and music videos. He has 17.6M subscribers right now.
5. Technical Guruji
Gaurav Chaudhary, known professionally as Technical Guruji, is an Indian YouTube personality based in UAE. He is popular for his technology based videos which he addresses in Hindi. Guruji got featured in "30 under 30 Forbes list."
In November 2018, he became the first Indian tech channel to gain 10 million subscribers. Gaurav took part in YouTube Rewind 2018 and 2019. Currently he has 16.7 million subscribers.
6. Sandeep Maheshwari
Sandeep Maheswari is an entrepreneur and motivational speaker. His speaking and story telling skills through motivational form made hima huge success on YouTube.
He has a lot of seminars on various topics helping people in their day to day life. He uses daily life problems to show a bigger picture. Currently he has 14.8 million subscribers.
7. NishaMadhulika
She is an Indian chef, YouTuber and restaurant consultant. Her speciality is Indian cuisine. Her videos have a whooping of 1.3 billion views. She also has food columns on several websites and has a total of 9.22 million subscribers.
She popular for uploading recipes of variety of cuisines. Many of her videos have gone viral.
8. Harsh Beniwal
Harsh Beniwal is a comedian, YouTube personality and an actor. Beniwal is popular for his comedy videos with his whole team, which makes us roll on the floor laughing.
Harsh made his film debut in the movie Student Of The Year 2. He has recently acted in a web series. Harsh recently uploaded a video on YouTube vs Tiktok which was a huge success and had gone viral. His channel has 8.91 million subscribers.
9. TsMadaan
Ts Madaan is a YouTube content creator and a motivational speaker, known for Hindi videos on topics such as selling skills, life skills, motivation and also inspiration.
His content is known a lot for educational purposes. He currently has 8.62 million subscribers.
10. Grandpa Kitchen
Grandpa's Kitchen YouTube channel started by Narayana Reddy is based on cooking and now operated by his son. He was born in 1946 and died on 27 October 2019 (age 73).
Grandpa Kitchen became popular after news channels covered them and the articles which went viral. They mentioned that the donations of food and modest approach of cooking.
Follow us on Instagram for daily content.