A 24-year-old Tekashi69 (Daniel Hernandez), is an American rapper and songwriter who was prisoned in December for two years for racketeering, carrying a firearm, assault with a dangerous weapon, and conspiracy to murder.
However, Sixnine was released later on April 2 over the fear of being vulnerable to Covid-19. Tekashi's spending the final months of his sentence in home confinement. Few days later Rapper returned on Instagram smashing a huge IG Live record with 2 million people tuned in last Friday. Tekashi69 fired up the whole social media.
Tekashi ranted on various topics on his Instagram live back then said; "I appreciate every little thing and I did nothing wrong. Yes, I didn't need all of that beef. I'm the biggest artist in the f**king world. Men lie, women lie, numbers don't. Look at the viewers, look up. Two million. Numbers don't lie." He bragged about his money and music and gold.
The rapper also dropped his first single 'GOOBA' after imprisonment on Last Friday destroying every YouTube Hip-hop records debuted at atop of Billboard Hot 100 next week. This colorful music video features six womens and rapper himself flexing around them. The video garnered 43million views the biggest 24-hour debut for a hip-hop video in YouTube history dominating Eminem's "Kill shot" record (38.1M).
Takeshi announced recently on Instagram asking Every New York rappers to join on his Instagram Live siad "A lot to say Make sure they don't turn off their phone act like they was up late last night and sleep."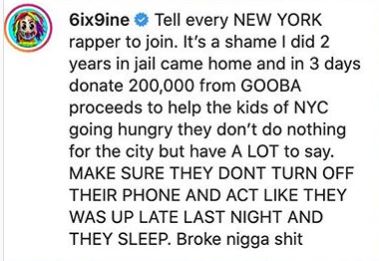 Tekashi 69 donated 200k from GOOBA to No kids hungry foundation. The rappers have been doing every possible good deed since he's out from jail.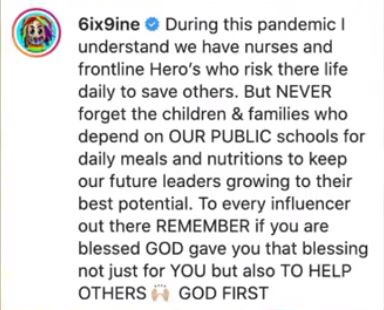 Stay Tuned we'll keep you updated.
Follow us on Instagram for daily news and updates.