Famed YouTuber and gaming personality SSSniperwolf ghosted a terminally ill 10-year-old girl. She chooses to enjoy delicious cake over meeting a cancer patient girl.
Lia Shelesh, popularly known as SSSniperwolf is a British-American Social media personality, gamer and video creator. She has even won award for the Gamer of the Year. SSSniperwolf achievement include having her own emote in PUBG, one of the popular games from Tencent.
Keemstar the American podcaster exposed how she ghosted a 10-year-old dying of cancer. He posted a video on his Twitter account, in which he explained the whole scenario. Lia agreed to talk to the girl dying of cancer but she kept on postponing the meeting with the girl. Later Lia was found enjoying chocolate cake at a fancy restaurant blowing off arranged meeting with the girl.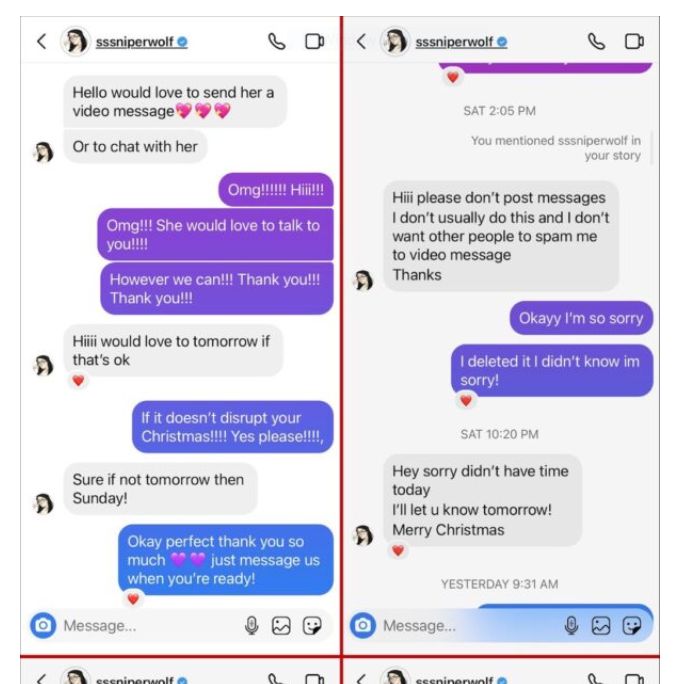 SSSniperwolf used to chat with the mother of the girl regarding the meeting. As per the chats the mother repeatedly tried to organize an interaction with Lia. For which Lia gave an explanation that, she wanted to video chat with the girl. As her parents were going to visit from home town and her illness didn't allowed her to get free time.
One of the Twitter user asked Lia about the incident of not meeting the girl and blowing off cake, to which she replied, ' Mom blocked me after contacting cuck star'.
Follow us on Instagram for daily news and updates