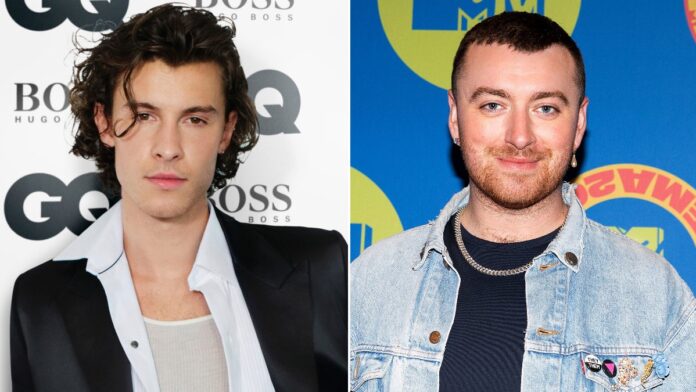 Last night, iHeartRadio Jingle Ball 2020 received a lot of attention last night due to line up packed with all-stars and their brilliant performances. The group of artists also included singer Sam Smith and Shawn Mendes. Both performed their hit songs on the Jingle Ball 2020 platform.
Other artists included Billie Eilish, Doja Cat, Dua Lipa, Harry Styles, Lewis Capaldi, and The Weeknd. The event was broadcasted across more than 95 iHeartMedia CHR radio stations as well as on the iHeartRadio app.
However on the December 10th show, when Shawn Mendes, who was introducing Sam Smith who was scheduled to perform after him, used the pronouns 'he/him' while referring to Sam Smith.
This reference bothered some fans and viewers who noticed that Shawn Mendes referred to Sam Smith as he/him instead of they/them pronouns. Sam Smith later performed a rendition of Have Yourself a Merry Little Christmas and Dancing With A Stranger. 
The hashtag #SamSmith was trending on Twitter, where the users were criticizing Shawn Mendes as well as the iHeart Radio platform for promoting transphobia. Fans were outraged and asked Shawn to apologize to Sam.
People were raged up by the fact that if this was a prerecorded session then how come no one noticed Shawn using the wrong pronoun for Sam Smith.
With all this, Mendes apologized for his mistake and implied that it was an honest mistake on his part. He has also promised that a mistake like that won't happen again. He ended his apology note by adding that Sam Smith is, in fact, one of the funniest people he has ever met and is sending them an abundant amount of love.
Reposting the same story, Sam Responded by implying that all is forgiven as everyone is in learning phase.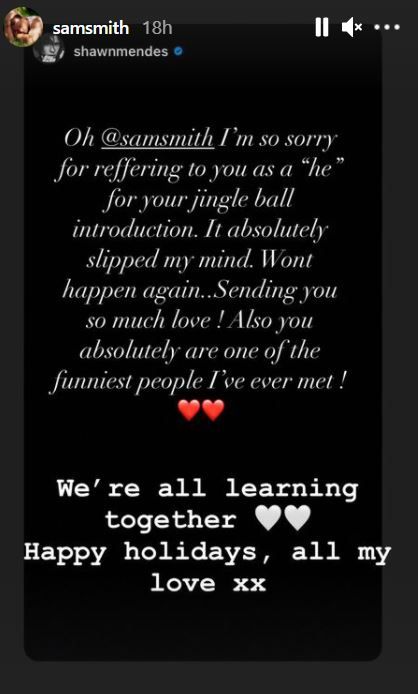 Follow us on Instagram for daily news and updates.