Tanmay Singh widely known by his in-game name "ScoutOP," is one of the most skilful and experienced PUBG Mobile player in India. Last year, Scout along with other players were signed by Fnatic to play under their name.
For a few months now, the Fnatic lineup is experiencing a lot of disturbances and hate. There were a lot of internal fights, quarrels among the players. Poor performance in scrims, lack of communication between teammates, ingame rage all lead to a weakening of the team synergy.
There were rumours of Scout leaving Fnatic in the gaming community. This news was later confirmed by Owais and Scout himself on stream. Fnactic PUBGM Instagram page also officially announced about disbanding the roster after PMPL SA 2020.
Scout giving hints of not leaving Fnatic
In between all the chaos caused due to the news of Fnatic being disbanded, Scout revealed that no one is going to leave Fnatic. Seems like that there will be changes in the playing roster but it is certain that no one will be leaving Fnatic. Further information about the changes were not shared.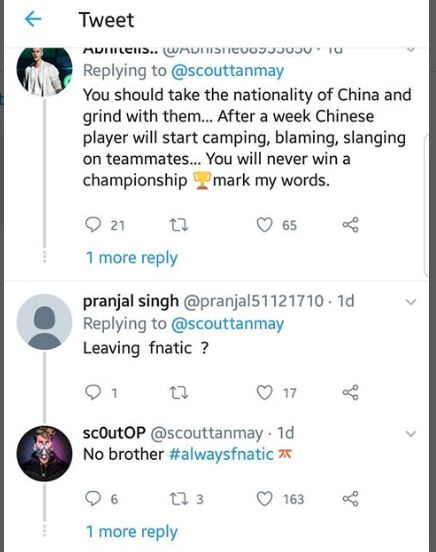 Scout still playing PMWL
Recently, in the PMPL SA 0202 finals, Fnatic failed to qualify for the PMWL 2020. This resulted in Fnactic not being able to play the World League. In his stream, his fans were trying to console him for not being able to play PMWL. But Scout gave a surprise by saying that he is going to play the World League.
Speculations are that he is going to join Orange Rock, possibly only for World League. As he disclosed earlier that no one is going to leave Fnatic, this must be only a temporary play for OR.
Scout hints leaving Fnatic?
With still things unclear about the future of Team Fnatic roster, Scout uploads a voice clip of him talking about change of lineup and esports. He gave the example of Team Celtz to make his point.
Some fans were getting emotional about the team changes and kept spamming him about the same. To these queries he pointed that a team is made by players and not the other way around. He justifies the player changing his roster by explaining that everyone wants growth in their life. He also mentions that Esports is a job for every professional player.
Is this a way of telling that he is going to leave Fnatic? Well, we don't know about it for sure yet. Only time will reveal the truth.
Follow us on Instagram for daily news and updates.