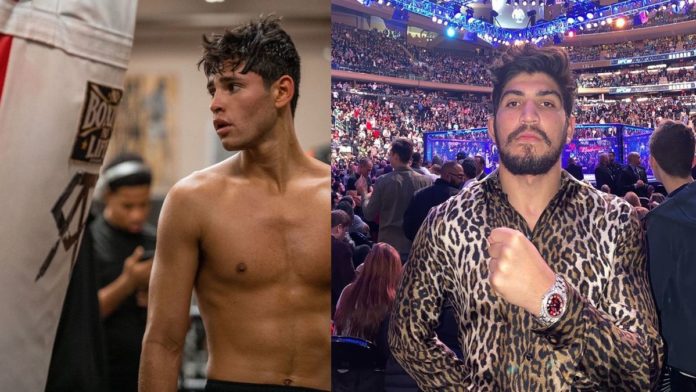 Dillon Danis is an American mixed martial arts fighter who currently competes in the middleweight division at Bellator MMA. He initially started working woth Conor McGregor in 2015. Dillon trained him for fight against Nate Diaz and Khabib Nurmagomedov.
Ryan Garcia also known as Kingry, is an American professional boxer in the Super featherweight division. Ryan has a good record in professional boxing. He has own 13 matches by knockouts.
Dillon on Ryan
Recently, Dillon uploaded a story on his Instagram, which sowed a picture of Ryan Garcia. Along with the picture, Dillon writes, "Imagine thinking this was the future of boxing this fool wearing a crop top."
Read more here
Ryan's reply to Dillon
In a chat with ESPN's Ariel Helwani, Ryan answered to the question about Dillon Danis. He said that he thought Dillon to be his fan as he noticed Dillon to be commenting on every video.
Ryan also mentioned that he has to dig a little to find out about Danis. He said, "I didn't know who he was. I was like 'who is this guy?' I did a little research and I guess it's Conor McGregor's little dog. Something like that. His little puppy."
Later, he also said that he would easily beat Dillon. He also tweeted about beating Dillon Danis. Ryan tweeted, "I'm going to MMA to knock out Dillion "whoever that is" Danis."
Follow us on Instagram for daily news and updates.