A news recently spiced up on Instagram regarding Dipraj jadhav, Papaocus and Teeaarbee.
You all must be familiar with Dipraj Jadhav Edits, a popular Meme Mashup edit page on Instagram with over 5lakh followers. He's also well-known among celebrities.
Now, Who's Teeaarbee? Teeaarbee another meme mashup page on Instagram known for bizarre memes, he's not so popular as Dipraj Jadhav still have quality followers on Social media.
Papaocus is a young emerging Indian YouTuber known for his commentary videos on his channel 'PapaOcus' was also involved in Controversy with Mumbiker Nikhil and Lakshay Chaudhary.
What the spice is about? Teeaarbee recently shared a video mashup edit, basically a roast on Dipraj Jadhav titled as 'How to edit like Dipraj jadhav' on his Instagram handle. It was a healthy roast explaining how Dipraj & Indian audiences are stucked on same mashup meme edit from last few years instead of being creative and exploring their talent "dipraj_jadhav_edits why don't you use your experience and talent to experiment and come up with new content wohi 4 saal purana mashup type edit abhi v," reads the caption on post. Seems like fans took it as Teeaarbee's hatred towards Dipraj Jadhav.
Where, Dipraj Jadhav responds with "Aise hi Hate failao or aagr badho life mein" to which Ocus reposted it on his Instagram story supporting Teeaarbee abuses Dipraj Jadhav for his reaction on it as the same typical hate thing to defend himself. Ocus writes "Ye mumbiker nikhil harkate bilkul nahi pasand, chup hoja mkc teri pls chup kyu nhi hota"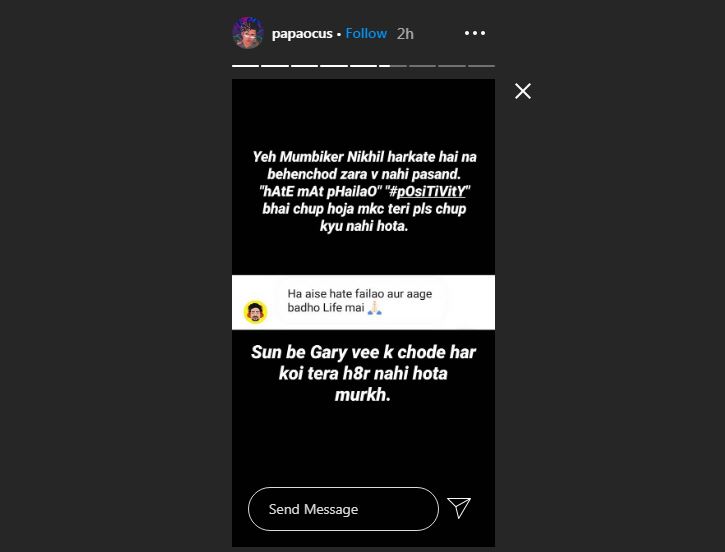 'Teeaarbee' later shared a lengthy IG story on his handle conveying what he was trying to say. Read Below:
Follow us on Instagram for Daily news and updates.