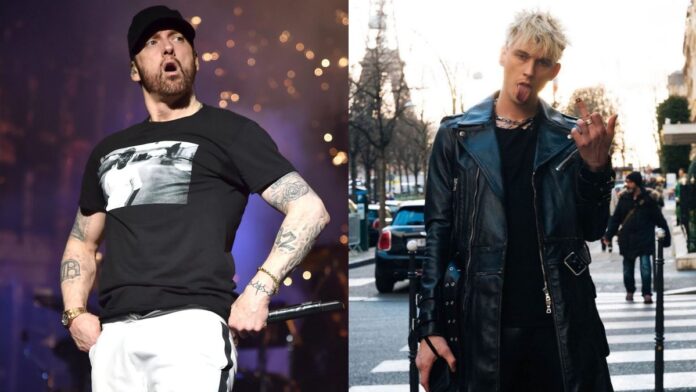 Richard Colson Baker, known professionally as Machine Gun Kelly (MGK), is an American rapper, singer, songwriter, and actor. MGK's musical journey started at an early teen age since then he never looked back.
Another one of the greatest rappers is Marshall Bruce Mathers, known professionally as Eminem, is an American rapper, songwriter, and record producer. He is well known for his "Rap God' songs's verse where he raps very fluently and fast.
Now these two, Machine Gun Kelly and Eminem are in a bit of a feud for quite a while. It started in 2018 when Eminem dropped a diss track towards MGK on his album Kamikaze. As a response, MGK recorded his own track "RAP DEVIL" which was a reference to Eminem's Marshall Mathers LP2 single "Rap God." However, MGK retired the song soon after its release.
Bu that was not enough satisfaction for Eminem to stop, he fired back with "Killshot." A few months later, MGK came up with a track on the Hotel Diablo song "FLOOR 13." Also at the beginning of 2020, MGK dropped "Bullets With Names" which seemed like the end of this feud.
But no, Eminem brought the beef up again on his last album Music To Be Murdered By. In two of the songs of the album, Eminem calls out MGK.
In the prior track "Zeus," Eminem raps, "Fair weather, wishy-washy/ She thinks Machine washed me/ Swear to God, man, her favorite rapper wish he'd crossed me."
On the second track "Gnat" he mentions MGK again with the lyrics "They come at me with machine guns/ Like trying to fight off a gnat."
MGK's response to Eminem
With all of this, it was sure that MGK would not leave things without a fight. On December 17th and 18th, he tweeted with response to Eminem's diss. He simply tweeted "those subliminals" alongside a laughing emoji and a bin emoji.
On the next day he again tweeted "I'm under your skin".
Although Eminem has not confirmed that his lyrics are about Machine Gun Kelly, a lot of listeners are convinced about it
Follow us on Instagram for daily news and updates.