"Logan Paul can get the same treatment before I go conquer Japan again," said Floyd Mayweather.
Logan Paul is an American YouTuber, internet personality and actor. He is quite a sensation among the youth and influences his audience through his podcast. Also, Paul is fairly new to the professional boxing segment. He has only been in one professional match against KSI. Unfortunately, it stood as a defeat for him.
Whereas, The American powerhouse, Floyd Mayweather is one of the greatest champ in the world. He has not fought professionally since his fight with Conor McGregor in 2017.
The feud between Logan and Floyd has set the Twitter on fire as both the personality take shots on each other. The rumours that both will share the ring in a fight has sparked up the dispute more.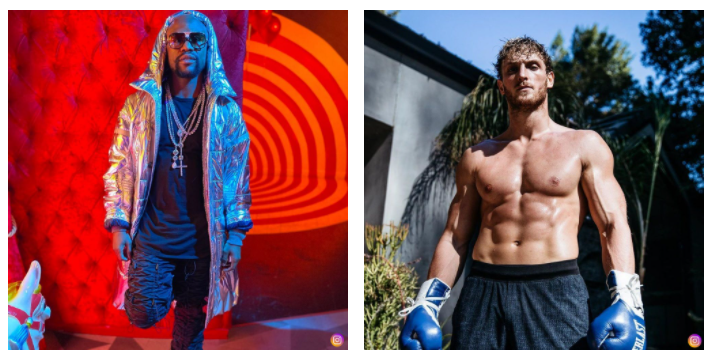 Logan Recently interacted with media in Los Angeles where he claims to beat Floyd Mayweather in a street fight. Paul said, "If I caught him. If I caught Floyd with one punch, one punch. I would snap the F**k in half. You know me, I am eight inches taller. I am 40 lbs heavier."
In response to Logan Paul, Mayweather' tweeted, "These YouTube girls better find some Barbie dolls to play with cause I'm not the one for the kid games. 3 years ago a fighter from the UFC said my name and I had to put a muzzle on that b**ch. @loganpaul can get the same treatment before I go conquer Japan again."
Logan was quick to hit back with "50-1" reference to Floyd's first loss.
By looking at the boxing situation, and with the internet personalities calling out professional sportsperson. Floyd Mayweather may fight Logan Paul (as he teased the possibility in past). Logan has been repeatedly teasing Mayweather, claiming to defeat the undefeated. If the fight may happen to take place, it will definitely grab a huge attention of audiences around the world.
However, 43-year-old legend, Floyd Mayweather who has defeated the World Champion has nothing to prove against Logan Paul. Also, there's nothing much exciting then, two of the most prominent people from their segments steps in for a professional boxing match. Stay Tuned.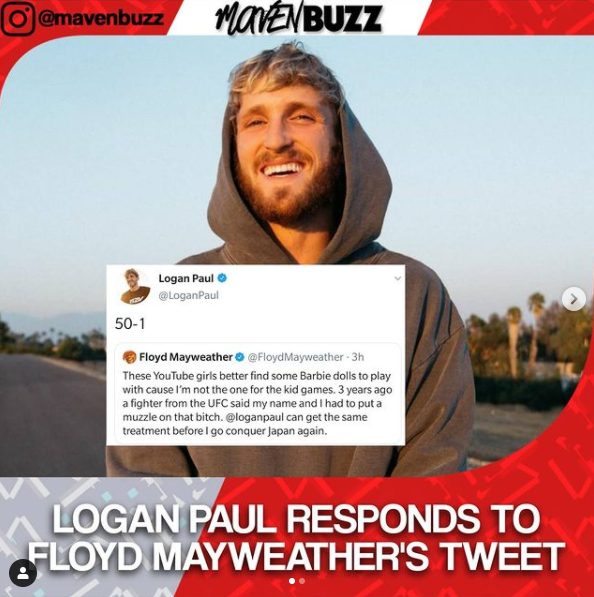 Follow us on Instagram for dialy news and updates.