The cash split for the scheduled exhibition boxing match between Logan Paul and Floyd Mayweather has been leaked and there are a day and night of difference between their amounts.
As announced the two superstars are scheduled to fight on the 20th of February, 2021. The bout will be streamed as pay-per-view on Fanmio. Early-bird tickets are currently priced at $24.99. The two stars are believed to make tons of money off this fight.
However, the pay deal for each man is wildly different, according to entertainment reporter Daniel Keem, who claims that while Mayweather is guaranteed £5 million plus 50% of all PPV sales, Paul can expect a lot less.
"My sources are pretty dead on," he announced on his YouTube channel DramaAlert. "And my source gave me a text message yesterday saying Mayweather is getting paid £5 million up front and 50% of all the sales of the pay-per-view."
"Logan is only getting paid $200,000 up front and only 5% of all the sales of the pay-per-view."
"So Logan Paul is getting wildly underpaid for this," he says. "Why would Logan Paul agree to this?
"I personally think it's clout. This is going to be such a big match, he might not make a ton of money with this contract – but it might be worth it for him to have the opportunity to be a legend."
While this is clearly a dramatic difference, it also makes sense as Mayweather earned $9 million for his exhibition fight with Tenshin Nasukawa in Japan in 2018 – and while the guarantee here is reportedly lower, the PPV sales would be expected to take his overall purse well into eight figures.
Also, Mayweather has a record of being unbeaten with 50-0 and many more achievements, while Logan Paul has just entered the ring. This looks like a bad deal to Logan but he is doing it as it is a good step in the ring with boxing royalty like 'Money' Mayweather. But, as it's beyond far-fetched to suggest he will actually 'win', we're not really sure how he attains legendary status.
But if the speculated numbers are true, it's just a reflection of how successful Paul expects their PPV to be and Mayweather's position as the dominant presence.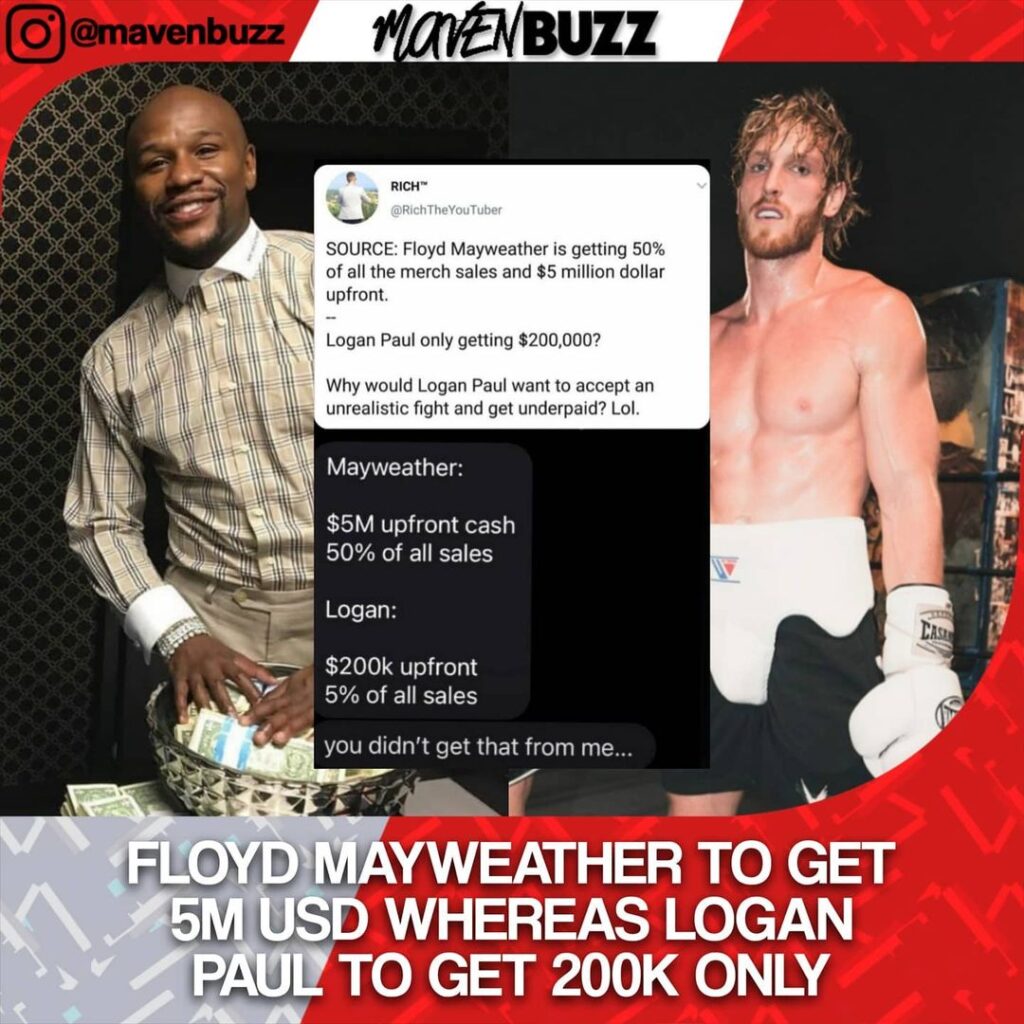 Follow us on Instagram for daily news and updates.