With the world eagerly looking forward to YouTuber turned professional boxer Jake Paul fight against Love Island show star Tommy Fury on the 18th of December, YouTuber Keemstar reported that Fury won't go on with the match suggesting it cancelled.
According to the YouTuber, Fury will be dropping out of the boxing match and is rumoured to be replaced by Jake Paul's last opponent Tyron Woodley. However, none of the parties has confirmed this news yet.
The pair has exchanged numerous blows online before they ended up in a contract for their boxing match back in October. Since then they have been promoting heavily about their upcoming bout.
Fury warned Paul back recently in November saying, "NOTHING can save you now. DECEMBER 18th, you'll see that you can't come in my world and not get hurt."
However, Keemstar popularly known for his news show DramaAlert has revealed some changes about the boxing match confirmed from two of his sources. He claimed that Fury will be dropping out of the fight and Woodley is rumoured to fill in the spot.
It is still unclear from both stars, as they are busy heavily promoting the event. However, the internet joined some dots and speculated that this might be connected to Jake reportedly denying to sign up for the VADA drug testing.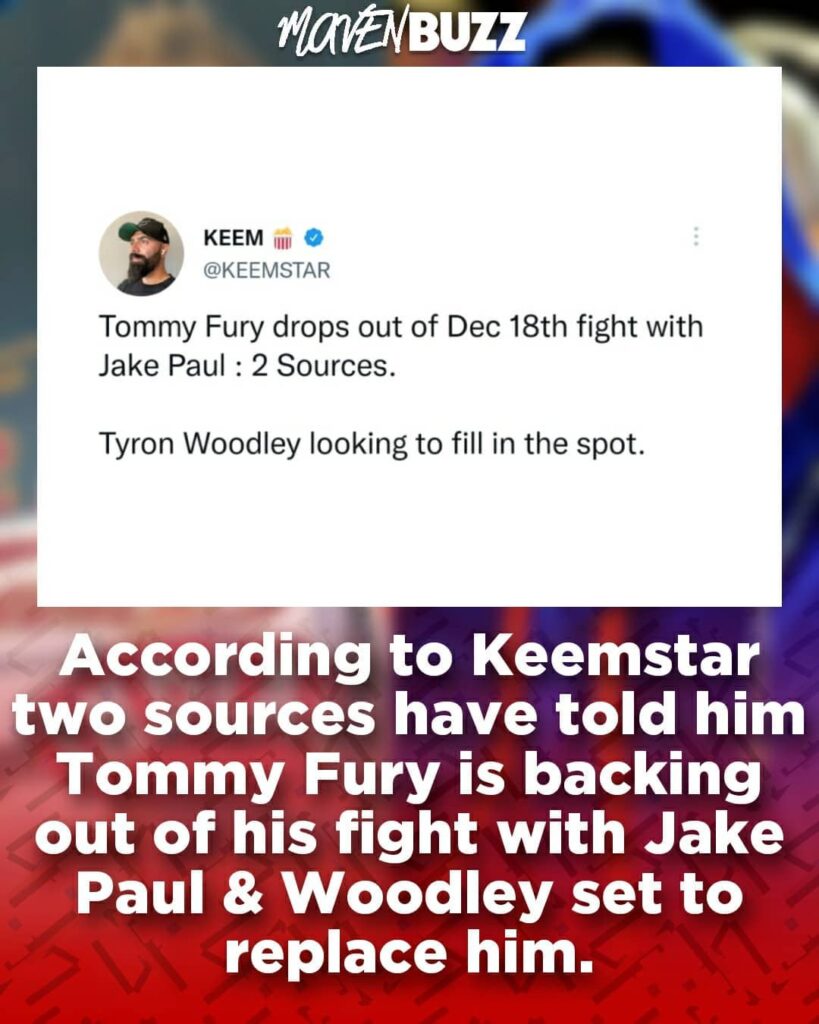 Tommy's father John Fury talked about this saying, "That bothered me a little bit. Because I wanted that in the contract. But he wouldn't do that. But I'm not even bothered about that, because what they're gonna do, they're gonna do anyway."
With any official confirmation yet to be announced it is not clear that Jake Paul and Tommy Fury have cancelled the match. Also, with so little time left for the matchup, an opponent swap would certainly change things drastically.
Live Update:
Chisanga Malata, a well-known combat sports journalist and UFC columnist revealed via his Twitter a surprise regarding the bout. The revelation confirms the news about Jake Paul vs Tommy Fury boxing match being cancelled.
Malata stated that Tommy Fury is out because of an injury. At the time of writing it is not clear exactly what happened to the British star.
Follow us on Instagram for daily news and updates.