Jake Paul a 22-year old American ,YouTuber, Internet personality, actor, and Musician is also a brother of Logan Paul. The past few months have been a roller coaster ride for Paul brothers with lots of Controversy's.
Jake Paul recently speaks about his relationship between him and ex-Erika during Q/A session on Instagram.Erika Costell (25 year-old) is also an American YouTuber, model and singer/songwriter came from BTS of Jake's team. The couple was knows as Jerika and dated for seven months.The fans got a glimpse of their breakup during Shane Dawson's The Secrets Of Jake Paul YouTube series back then where Jake stated they could "barely hold it together" and "Erika is a beautiful soul" and helped me become a better person on so many levels".
During recent Q/A Jake explains about his relation "exes can be friends right? or just because "stans" don't like hat and get butt hurt were not supposed to be? "…when asked "Why were you with Erika ?.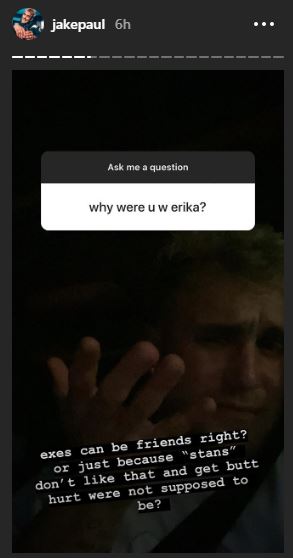 The old loved couple Jerika seems to tie a good friendship knot after the split up now .I'll keep you updated stay tuned with MavenBUzz.