PUBG Mobile was the most played mobile game in India and has become a phenomenon here since the release. This enormously popular video game played a major role in the revolution of Esports in India. The game had a massive fanbase and over 33 million active Indian players. And considered as one of the most beloved mobile game.
PUBG Mobile has not only elevated the Esports scene in India but also opened an opportunity for a lot of Indian gamers. Esports in India gained prominence due to PUBG Mobile and saw a massive growth from 6 million to an estimated 17 million by the end of 2020, as per INC42 report.
Excluding India, there are countries like United States of America, Finland, Germany, South Korea, etc, who recognize esports as a sport allowing players to showcase their skill and represent their country at global level.
#RecognizeEsportsinIndia Trend
Talking about the matter, Indian PUBG Mobile Pro player Ghatak call out players and fans to start a #RecognizeEsportsinIndia trend on Twitter.
Ghatak took it on his social media account Twitter and Instagram to initiate a trend and later supported by other Indian players like Ocean Sharma, Maxtern, Kronten and many more.
"Better late than never But we already too late.Esports is rising in India but the government has failed to take notice.Other countries already making their mark in esports.Every child deserves a shot at realising their dreams in the country." – Ghatak
Ocean Sharma
Maxtern
Kronten
PUBG Mobile India haven't shared any official word about the release date of trailer and Game in India yet. Stay Tuned.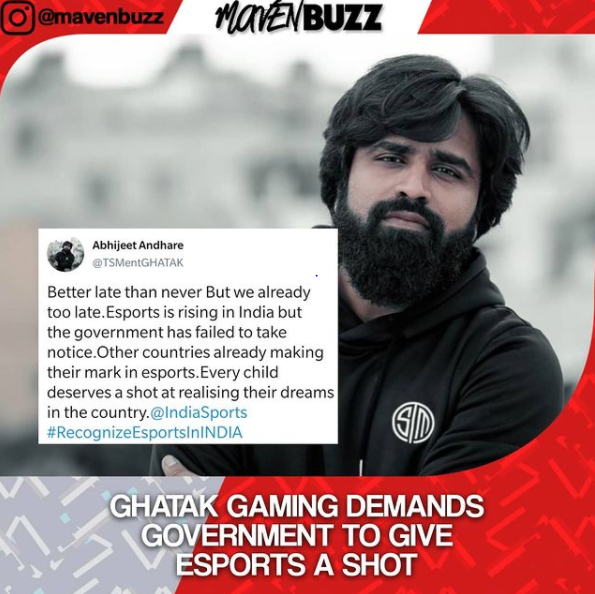 Follow us on Instagram for daily news and updates.