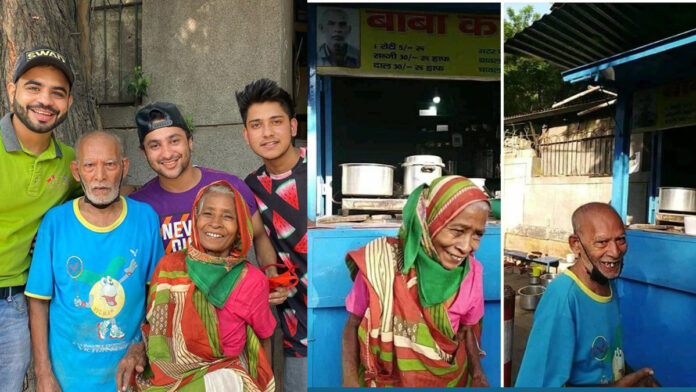 Social Media has turned up as saviours to many during the crisis as well as pandemic. The power of Social Media once again showed its significance. After a video of an elderly couple running a small shop called 'Baba ka Dhaba' went viral on the Internet.
The video was shot by Gaurav Vasan yesterday featuring, 80-year-old Kanta Prasad and his wife Badami Devi who start cooking at 6.30 am and ready with days meal at by 9.30 am. Kanta Prasad shared the menu consists of Indian Dishes like Dal, curry, parathas and rice (30/50 Rs plate).
A coronavirus pandemic caused a huge loss to their small business, the 80-year old man, Kanta Prasad broke down over no profit. Also, the couple receives no help from their two sons and a daughter.
The video of an elderly couple selling home-cooked meals from a small stall in Delhi's Malviya Nagar has been shared extensively on Social media. Since Vasundhara Tankha Sharma, tweeted "it completely broke my heart," by sharing a video by a food blogger.
The video went viral overnight and moved hearts of many Indian Bollywood celebrities, cricketers, YouTubers and Netizens.
In no time, the video started trending on Social Media with a constant stream of customers turning up at 'Baba Ka Dhaba.' The elderly couple looked very much happier after a huge response from everyone including big names in the country.
Big names like Bollywood actor Sonam Kapoor, Cricketer R Ashwin raised their hands to help out Kanta Prasad and his wife in Delhi.
Aam Aadmi Party (AAP) MLA Somnath Bharti from Malviya Nagar also visited Baba Ka Dhaba and assured help to the couple.
YouTuber Reaction & Contribution
Ashish Chanchlani Expressed his concern over 'Baba Ka Dhaba' sharing a story on his Instagram.
Harsh Beniwal quickly reacted and rushed towards the stall to help the couple out. Beniwal also shared a post on Instagram with happy faces and appealing everyone "Did my part , Ap bhi jaye or kuch khake aaye."
The happiness you get by seeing people come together for a noble cause is amazing. And now hundreds of people are willing to come forward and help since the video went viral on the Internet.
Address: 'Baba ka Dhaba' Opposite Hanuman Mandir, Near Taxi Stand, Malviya Nagar, Delhi.