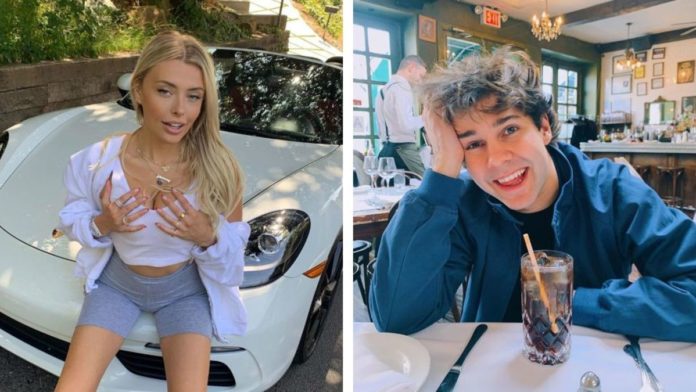 Crinna Kopf is a social media personality who is particularly known for her Instagram as well as YouTube. She has gained her following through her posts detailing her everyday life. She was featured in David'd initial videos. Corinna has also been known online as Pouty Girl. She currently has 1.72 million subscribers on YouTube and 4.5 million on Instagram.
David Dobrik is a huge YouTube personality. He established his huge fanbase initially through Vine. Later he started creating vlogs on his YouTube channel. His channel was the fifth-most viewed creator channel on YouTube in 2019, with 2.4 billion views that year. He currently has 17.8 million subscribers on YouTube.
David and Corinna
In David's last bunch of videos, Corinna and David were seen together. Initially it was only regarded as a friendly behavior. With this, the thoughts were scrapped off. But with more vlogs coming in on David's YouTube channel, both were seen a lot into each other and it obviously was seen a little more than just being friendly.
Later, a lot of other YouTube channels who cover celebrity news showed some of their videos and pointed that they were clearly flirting and there is a huge possibility of them dating. With time the suspicion was all cooled down.
On 25th June, Corinna Kopf posted a tweet on his Twitter account stating that she is dating David Dobrik. It was loud and clear. She revealed it to all her fans and there were lots of positive responses as well as trolling.
Follow us on Instagram for daily news and updates.