Australian YouTube 'Corey La Barrie' dies in a car crash on Sunday 10th May 2020. He was killed in a car crash accident on Sunday which also happened to be his 25th Birthday.
Corey's younger brother Jarrad took it on his Instagram confirming the sad news wrote "Corey passed away last night in a car accident with his drunk friend driving… this is the hardest thing I've ever had to do i dont how I'm suppose to do this without you i miss you so much already this isn't fair thank you for always being the best big brother"
This tragedy has shocked many of Corey's fans and family members. His mother also mourned down her feelings, comments on same pic said "No words can describe the sadness I feel in loosening a child."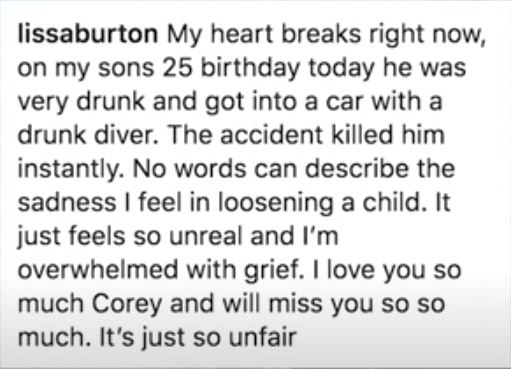 The Los Angeles Police Department confirmed the accident said about 9:40 p.m. on Sunday night McLaren 600LT lost control and hit a stop sign and a tree at the corner of Valley Village neighbourhood.
A spokesperson said the passenger (Corey la barie) died in an accident and Driver was taken to hospital in an unknown condition. Later driver, confirmed as 'Daniel Joseph Silva' who's a popular tattoo artist, was taken into custody by LAPD. Silva tried to flee the crash but was stopped by people who came to help, the LAPD said.
Not much details have been shared by LAPD yet, Stay tuned, we'll keep you updated.
A 25-year-old 'Corey La Barrie' was a popular Australian YouTuber with more than millions of views and 374k subscribers on his YouTube channel by the same name.
Follow us on Instagram for daily news and updates.