Carryimati (Ajey Nagar) is top Indian YouTuber, gamer and also an Indian youth Icon known for roast video on his YouTube Channel with over 17M subscribers and billions of views.
A 20-year-old young Indian Social media star and YouTube personality Ajey Nagar (Carryminati) flooded the whole social media with his response on Youtube vs Tiktok controversy. Few days ago, Carry shared one of the brutal roast video ever seen in India 'YOUTUBE VS TIKTOK: THE END' against Amir Siddiqui (tiktoker who claimed himself as social influencer and better than YouTubers).
This video was the final blow from Carryminati to Amir siddiqui that broke several YOUTUBE records within 24 hours and crossed more than 2M likes in 2 hours garnered millions of views every hour. YOUTUBE VS TIKTOK helped achieve carry such huge milestones dominating both the national and global records.
Carryminati even celebrated with his fellow Youtubers like Bhuvan Bam, Ashish Chanchlani, Harsh beniwal, Amit Bhadana on Social Media along with their fans. Read here – #Carryminati DOMINATES Twitter & YouTube.
However, Last night carry's video disappeared out of blue creating havoc on Social media, within a few minutes the Twitter went on trending with #carryminati & #justiceforcarryminati. Every fan and YouTuber bombarding social media with comments, discussions and tweets. YouTube DELETES Carryminati's Controversial Video.
Fans have been eagerly waiting for carry's response since then. People were worried as there were no announcements or reaction from Carryminati itself.
After a long wait carry finally unveiled what he really feels about the video sharing a sad post on his Instagram handle. It was really heart wrenching to read that Carry's video won't be back "this video will remain banned and won't be restored." Carry thanked us for always staying by his side and supporting him in every ups and down.
This is all we can do right now to stand by carry's side and lift him up. Your fans are loyal and honest no matter what they will still be by your side even when it's least expected. We wish you a great luck in your journey. Carryminati isn't only a YouTuber or roaster he's our beloved friend who has inspired millions.
Kronten gaming reposted the story showing his support for Carryminati.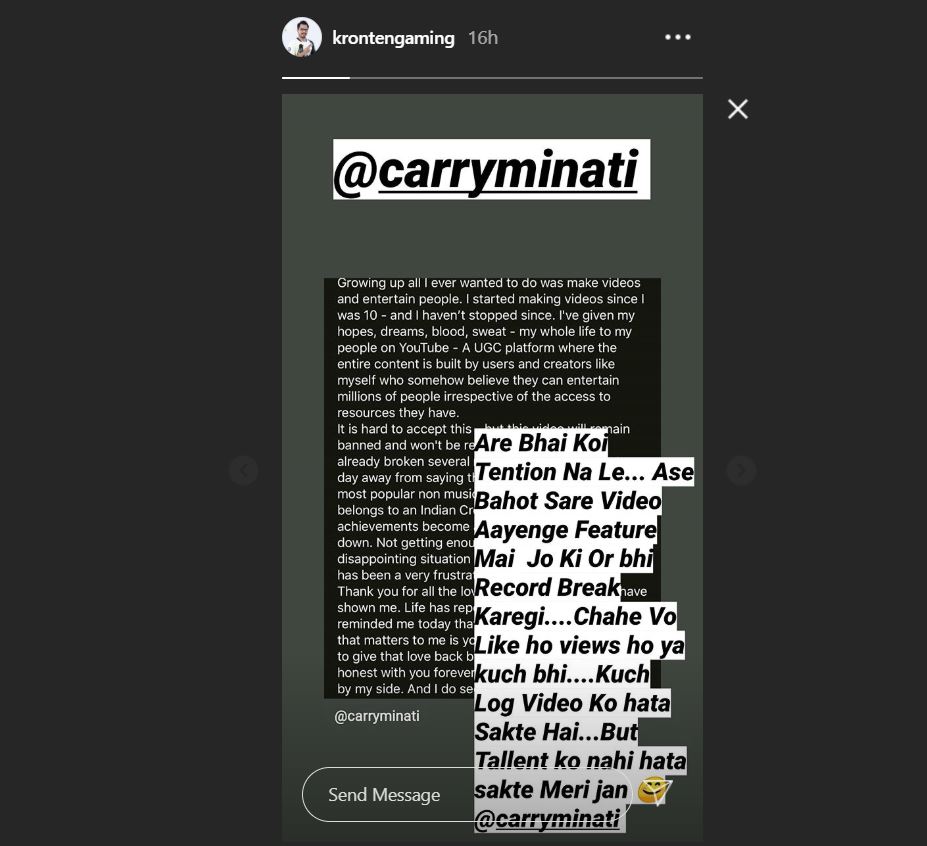 Follow us on Instagram for fastest news and updates.