Dhruv Sehgal and Carryminati bot Indian Internet personality scores big at IWMbuzz Digital award Yesterday night. IWMBuzz stands for IndianWikiMedia is a platform for news And updates from Indian television world and digital content.
Carryminati (Ajay Nagar) known for his roast videos and music on Internet won the "Impactful Influencer of the year "award "This award is for the people who helped me in Generating charity" says Carry in an interview at red carpet ends by saying "This award is dedicated to my fans and supporter ."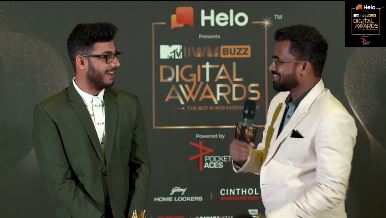 Dhruv Sehgal one the best writer to rise up from past few years is also a writer of most loved Web series in India – "Little things ". Dhruv grabs the "Best Story teller of the year Award" at ceremony thanking everyone who played a great role in back especially parents and his friends,people out there for showing so much love for "Little things".