The world is in a complete lockdown state and Stars are trying their best to entertain people on social media. A 18-year-old 'Billie Eilish' surprised her fans on Instagram by going Live on her account.
Fans went all excited and lucky ones were plucked by Billie to join her Live on Instagram. Many of them burst into tears, infront of Eilish.
Eilish admitted she was "bored" during quarantine, hence thought of personally interacting with her fans on Instagram Live.
Out of blue Billie's LIVE broke the records of most viewed Instagram live ever with 285k people watching–and 270k viewers joined within a minute.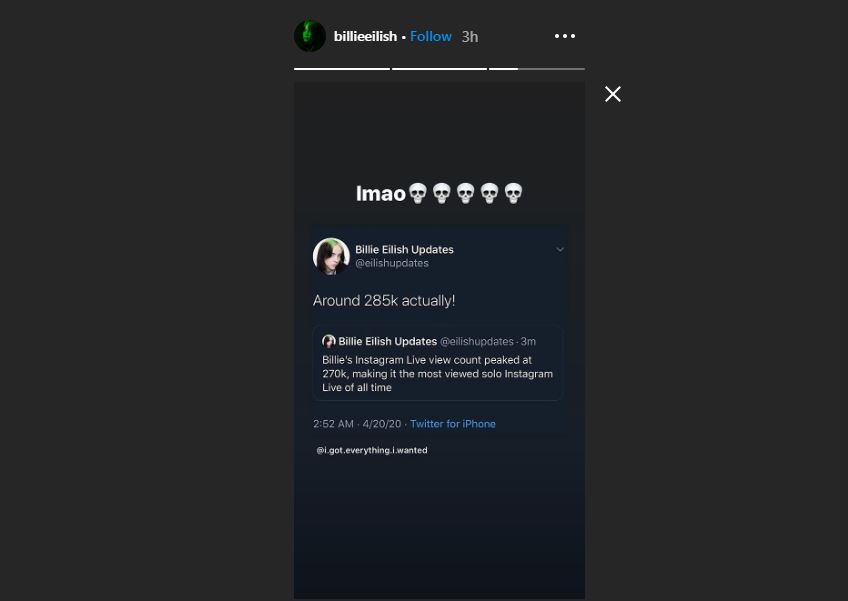 The live session was great along with her fans from every corner of the world and the lucky ones even had a personal chat. Unfortunately, Billie's brother 'Finneas' was absent during the live stream.
Billie Eilish,18, is an American Singer and songwriter who made her debut in 2019 by "When We All Fall Asleep, Where Do We Go?", which featured at No. 1 on the Billboard 200 in the U.S as well as 17 additional countries around the world upon release. She's also youngest Grammy artist to be nominated for Grammy awards at the age of 17 and one of the youngest artist in Music Industry to write and record a song for iconic James Bond film.
Follow us on Instagram for daily news and updates.