Tekashi69's all set to Drop New Music Video.
A 24-year-old rapper, Takeshi 6ix9ine (Daniel Hernandez) was prisoned for racketeering, carrying a firearm, assault with a dangerous weapon, and conspiracy to murder. He was released last month because of Coronavirus concerns and will stay under home confinement for few months.
Since his release, Tekashi returned on Instagram and YouTube with a new banger last week 'Gooba' that turned out to be highly successful music video of Tekashi post-prison. GOOBA broke all the previous records on YouTube dominating Eminem's "kill shot", garnered 43million views within 24 hours. Gooba also featured on top song of the Billboard Hot 100 this week.
6ix9ine was also involved in a dispute with Mike Mills and Snoop dog on Social media. Now when rapper have grabbed so much attention. Tekashi made a big announcement today on Instagram.
A 24-year-old unveiled he will drop his New music video this week and quit Instagram until them.
"I'm staying off Instagram till Friday. New music video Friday May 22 3 PM EST," shared post on Instagram. He again ranted about his popularity and music captioned with :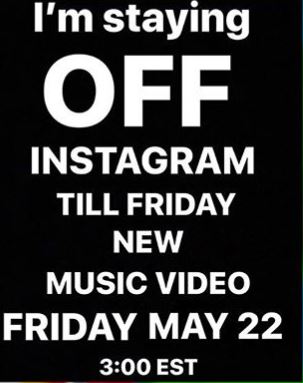 "I proved I'm the king of Instagram AND I TOOK BACK THE KING OF NEW YORK. I proved that to you with numbers. The internet was dead without me."

Few days ago, 6ix9ine shared a picture on his Instagram licking his foot captioned with "500,000 comments I'll drop ANOTHER music video this FRIDAY ❤️." The post quickly hit the goal. Tekashi also promised to drop new music video last week, if Gooba hits "10,000" downloads.
Tekashi will drop his new Music video on Friday 22nd May. The track name and other details of video is still unknown. Stay tuned.
Follow us on Instagram for daily news and updates.