Daniel Hernandez popularly known as Tekashi 6ix9ine is a 24 yrear rapper. A month back, he dropped a banger music video on YouTube "Gooba" which was highly successful and broke the record of most views within 24 hours by garnering 43 million views. Gooba also featured on top songs of Billboard Hot 100 chart this week.
Tekashi dropped his first post-prison song on Friday, 8th May. He planned to drop a new video next Friday, 22nd May. However, 6ix9ine pushed the release date back to 29th May. Due to the ongoing protest for the death of George Floyd, he didn't feel it right to upload a song then. He announced it to drop the music video on 12th June.
Nicki Minaj and 6ix9ine have collaborated before on "FeFe" in July 2018. The song has since been certified platinum eight times and rose to No. 3 on the Billboard Hot 100. It was a huge success to 6ix9ine back then.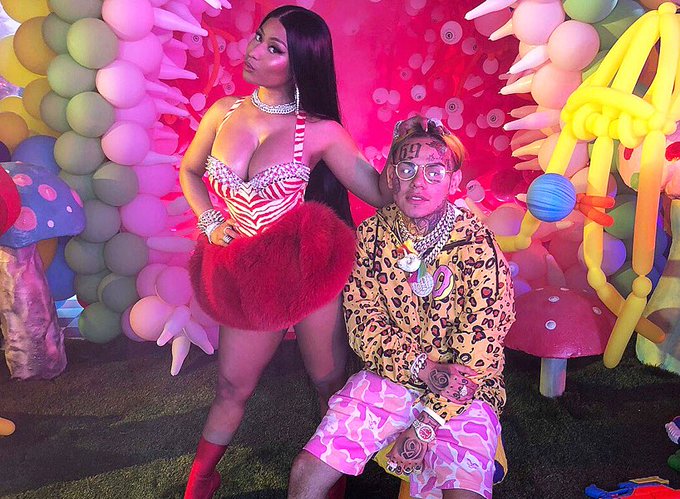 6ix9ine and Nicki's new collab
Now Tekashi and Nicki have teamed up for the new song and video for "Trollz." The pair addresses haters through straight on point lyrics. "I know you don't like me, you wanna fight me, You don't want no problems at your party? Don't invite me," 6ix9ine goes. "I don't worry 'bout you niggas, please stop talking 'bout me, Always talkin' bout me 'cause you looking for the clouty."
"They get nervous when it's Nicki on the roster," Minaj raps. "Somebody ushered this nigga into a clinic, My flow's still sick, I ain't talkin' a pandemic/I write my own lyrics, a lot of these bitches gimmicks, They study Nicki style, now all of them want to mimic."
The duo is going to donate a portion of the sale proceeds of song as well as merch to the bail project. As per Nicki's Instagram post "A portion of the proceeds from #Trollz including merch items, will be going directly to The Bail Project Inc.
The caption continued, "The fund provides free bail assistance to low-income individuals who can't afford to pay bail while awaiting their trial. We want to protect and support the thousands of brave people working on the front lines of social justice, using their voices to demand AN END to the targeting and killing of Black Americans by the police. #BlackLivesMatter
Follow us on Instagram for daily news.